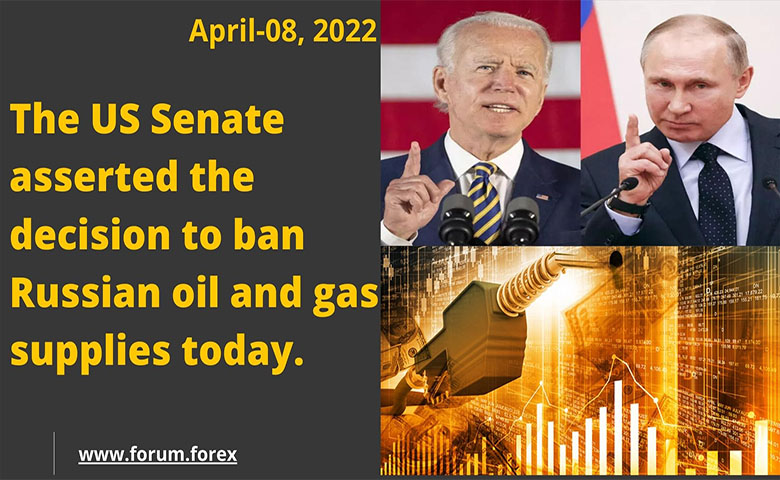 The US Senate asserted the decision to ban Russian oil and gas supplies today.​
The EU is also discussing imposing similar bans on all or most Russian energy supplies.
The strict measures comes following news of massacres committed by the Russian army in several Ukrainian cities.
EUR/USD fell 0.1% to 1.0887 as of 17:45 GMT, with an intraday high at 1.0938.
An official at the European Central Bank expected an exit from the negative rates policy by year end.
Official data showed retail sales rose 0.3% in March, while analysts expected a 0.6% rise.
US Dollar​
The dollar index rose 0.1% to 99.7 as of 17:47 GMT, marking a session-high at 99.8, and a low at 99.4.
The Federal Reserve released the minutes of its last meeting, at which policymakers voted to hike rates by 25 basis points to 0.50% for the first time since 2018, with many members preparing for 50-basis-points hikes in the future.
On the other hand, The European Commission on Thursday approved a French scheme to provide up to 155 billion euros ($169 billion) in liquidity support to companies hit by the economic impact of the war in Ukraine.
The scheme is the first one approved under the EU crisis framework adopted last month, which temporarily eased the EU's state aid rules following Russia's invasion of Ukraine.
"This scheme will enable France to mitigate the economic impact of Putin's war in Ukraine and to support companies affected by the current crisis, as well as by the related sanctions", European Commission Vice President Margrethe Vestager said in a statement.
The measure will be financed using part of the 300 billion euro budget France had initially allocated under three French schemes to support the economy in light of the COVID-19 pandemic. They were initially approved in March 2021.
Elsewhere, Both the S&P index and Dow industrial average are now trading positive. The NASDAQ index has erased most of its declines as well and trades near highs for the day.​
For the S&P index it is trading right near its 200 day moving average at 4491.73. Yesterday the price of the index closed below that moving average for the first time since March 23. If the price can get back above, that would tilt the bias to the upside.
You can learn more about forex trading tips and Financial market data at forum.forex
Thank You