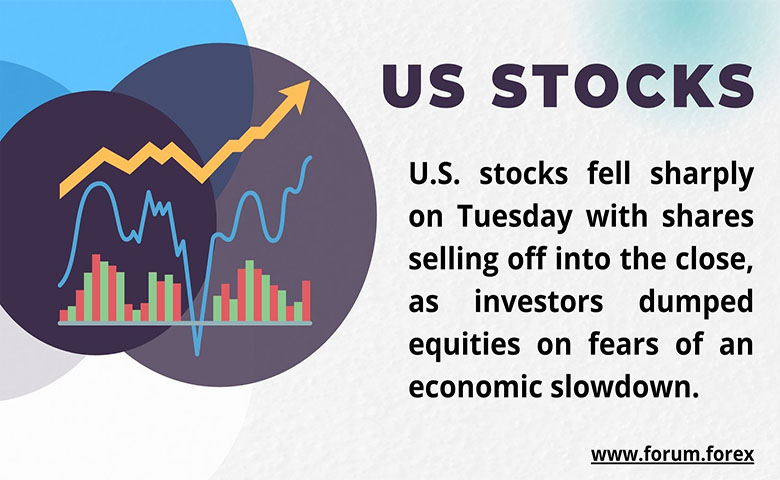 Stocks were bouncing back Wednesday, after a deep selloff on Tuesday as investors fretted about factors including the earnings of major tech companies and risks to global economic growth from a slowdown in China.
U.S. stocks fell sharply on Tuesday with shares selling off into the close, as investors dumped equities on fears of an economic slowdown.
The tech-heavy Nasdaq Composite dropped 3.95% and hit a fresh 52-week low to close at 12,490.74. The index retreated further into bear market territory, sitting now about 23% off its high. The Dow Jones Industrial Average shed 809.28 points, or 2.4%, to 33,240.18. The S&P 500 lost 2.8% at 4,175.20.
For April, the S&P 500 is off 7.8%. The Nasdaq is down 12.2%, and the Dow has declined 4.2%.
On the other hand, Google parent Alphabet Inc (GOOGL.O) on Tuesday reported its first quarterly revenue miss of the pandemic after the war in Ukraine hurt YouTube ad sales, leaving investors rattled as the global economy sputters.​
The world's largest provider of search and video made a fortune over the last two years as the pandemic forced more shops and people online. But outdoing those sales is proving difficult so far this year with the war, rising inflation and product shortages causing advertisers to dump marketing campaigns, according to analysts.
Elsewhere, European gas prices surged on Wednesday, after Russia halted supplies to Poland and Bulgaria, stoking concern that other countries in the continent could be targeted for their support towards Ukraine.
Benchmark Dutch futures contracts tracking Europe's wholesale gas price rose as much as 28% to 117 euros per megawatt hour ($124) in early trading Wednesday, according to data from Investing. com
That jump came as Russia's state-owned energy major Gazprom said it would "fully halt" gas supplies to Bulgaria's Bulgargaz and Poland's PGNiG "due to their failure to pay in rubles."
The EU had appeared to indicate last week a possible compromise solution that would allow the gas to keep flowing. But the move against bloc members Poland and Bulgaria probably makes a fix harder to achieve. Germany is massively dependent on Russian gas and has raised the prospect of rationing fuel if flows are cut.
Putin's gambit also removes from the EU's potential toolkit the option of sanctioning Russian gas. European ambassadors meet on Wednesday and options to ban oil are expected to be discussed.
Thank You