If price agrees, run along with it. I'm not a fan of predicting price movement to enter a trade. I prefer to hope on a trend already in progress.
Hi mate how it going. Yeah I agree with you. The chart I posted shows this pair in upwards trend on the daily (higher highs and higher lows). Imo break to the downside of up trend line and retest and bounce off current support (turned resistance) turns the picture bearish for me. Saying that I like odds of continuation to the upside. risk vs reward not bad on this potential trade.
ok, have re-run my NZDUSD chart from scratch and come up with this…looking range bound til the new year imo, support @ .81 and falling TL may contain this. note the double top at the end of SEP which suggests strong sellers up there which is why i am thinking pa will respect falling TL for now…buy dips, sell rallies
double bottom on 4hr could see this pair goto recent support turned resistence as marked opn chart. the 200 dma is also there. .831 ish after that if it gets momentum. not bad cheeky 50 pip scalp for first tp.stop below recent swing low.
I'm short. But it's looking like I was a tad bit too late for the party. Will see how tomorrow plays out. If it moves to far against me, I will probably put a SL in place.
Out of second. Nice trade. Now Watching.
Tp hit but not before pa kissed my sl. Bah!!
NZD/USD was in a strong and consistent descending trend that sellers during this descending trend were successful in achieving the lowest price level of 0.76596.Currently in 1H time frame with formation of Morning star(with 2 stars) (the failure of sellers in reaching to the lower prices) price has been stopped from more descending and there is a possibility of formation of a bottom price and finally ascending of the price.
As it is obvious in the picture below between the top price of 0.80323 and the bottom price of 0.76596, there is a none ideal AB=CD harmonic pattern with the ratios of 78.6 and 161.8 that with completion of the D point (also formation of other AB=CD (78.6=127.2) pattern in CD wave), there is a potential for ascending of price.Generally according to the current situation, until the bottom price of 0.76596 is preserved, there is the potential for ascending of price and reformation of descending trend.
Technical analysis of NZD/USD dated 18.02.2015
NZD/USD chart has experienced a strong ascending trend during the recent days that could record the top price of 0.75574.as it is obvious in the picture below , price has been stopped from more ascending with reaching to the Resistance level (S=R) and has formed a top price.
According to the formed movements in the price chart, between the bottom price of 0.71769 and the top price of 0.75574 there is an AB=CD harmonic pattern with the ratios of 50 and 161.8 which the D point of this pattern is completed and warns about descending of the price in this price range.Stoch indicator in 4H time frame is in the saturation buy area and is in divergence mode with the price chart that warns about changing price direction.Right now the first important warning for more ascending of price in this currency pair happens by breaking f the 0.75574 level(D point) in H4 time frame.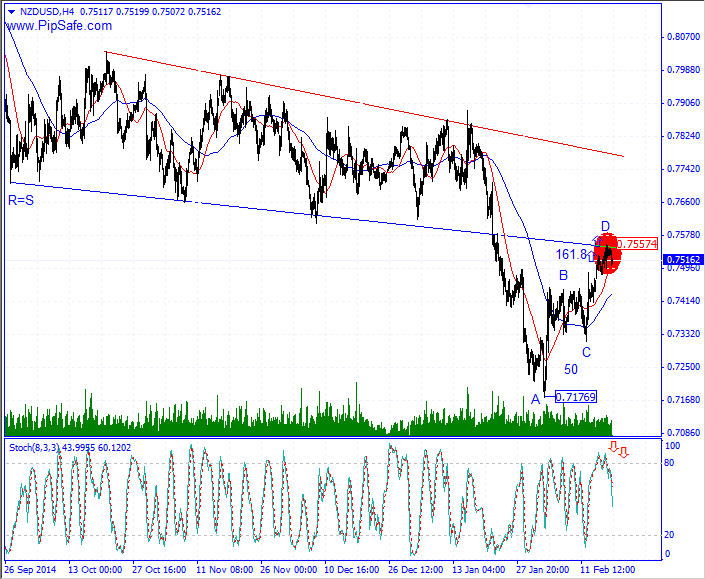 Interesting situation on NZDUSD Daily chart. We have HL-HL trend and now it is chance to break resistane 0,7680 - 0,7700
Last post was mistake (with AUDUSD chart), Im sorry.
About NZDUSD I still wait for resistance break. The same situation like AUDUSD?
I think the NZDUSD between 0.7370 and 0.7400 is a very good entry opportunity for long trades.
I bought at 0.7373 but am not feeling happy about it, the US dollar is picking up strength.
New Zealand's PM's comments would have give the kiwi bears a shock, but the cross remains comfortable in its downtrend
NZD/USD GO LONG
The primary trend of NZD/USD is bearish on charts and price is trading below the trend line in its hourly chart. In hourly chart the price is sustaining below 200 day SMA and taking resistance of 50 day SMA indicating downtrend of the pair.
Resistance level of 0.6505 and Support level of 0.6415
If it breaks its support level on the downside and sustains below it then we can expect it to show further bearish movement in the pair.

INDICATORS:-
RSI is sustaining in its selling zone indicating the upcoming bearish trend in the pair.
STRATEGY: NZD/USD is looking bearish on charts for next few trading session. One can go for sell on higher level strategy for this pair for intra day to mid term positions in it.