DAX Index Technical Analysis Summary
Above 12400
Buy Stop
Below 14050
Stop Loss
| Indicator | Signal |
| --- | --- |
| RSI | Neutral |
| MACD | Buy |
| MA(200) | Neutral |
| Fractals | Neutral |
| Parabolic SAR | Sell |
| Bollinger Bands | Neutral |
DAX Index Chart Analysis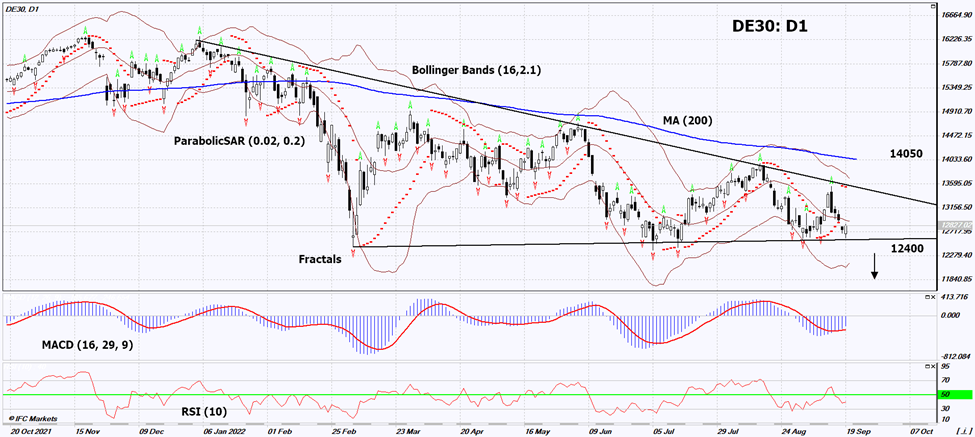 DAX Index Technical Analysis
On the daily timeframe, DE30: D1 is in a long-term triangle. It must be broken down before opening a position. A number of technical analysis indicators have formed downward signals, but the main signal may be the chart exiting the triangle downwards. We do not rule out a bearish movement if DE30: D1 falls below the triangle support line and the low since November 2020: 12400. This level can be used as an entry point. The initial risk limit is possible above the last upper fractal, the upper Bollinger band, the 200-day moving average line and the Parabolic signal: 14050. After opening a pending order, we move the stop following the Bollinger and Parabolic signals to the next fractal low. Thus, we change the potential profit/loss ratio in our favor. The most cautious traders, after making a trade, can switch to a four-hour chart and set a stop loss, moving it in the direction of movement. If the price overcomes the stop level (14050) without activating the order (12400), it is recommended to delete the order: there are internal changes in the market that were not taken into account.
Fundamental Analysis of Indices - DAX Index
The German economy is showing signs of slowing down. Is the correction of DE30 quotes possible?
Germany Producer Price Index for August will be published on September 20. It is expected to decline slightly compared to the record growth of +37.2% in July this year. A strong rise in energy prices could have a negative impact on the performance of German companies. Note that in the last 10 years Germany Trade Balance n.s.a. fluctuated around the mark of 20 billion euros per month. This year it is noticeably lower (4.9 billion euros in July). This may be an indirect sign of a decrease in the activity of German export companies. On September 23, the S&P Global Germany PMI for September will be released, which may affect the dynamics of DE30. Recall that the quarterly reports of German companies will be published at the end of October.