Mondelez Technical Analysis Summary
Sell Stop: Below 57.79
Stop Loss: Above 63.29
| Indicator | Signal |
| --- | --- |
| RSI | Neutral |
| MACD | Buy |
| Donchian Channel | Neutral |
| MA(200) | Sell |
| Fractals | Sell |
| Parabolic SAR | Sell |
Mondelez Chart Analysis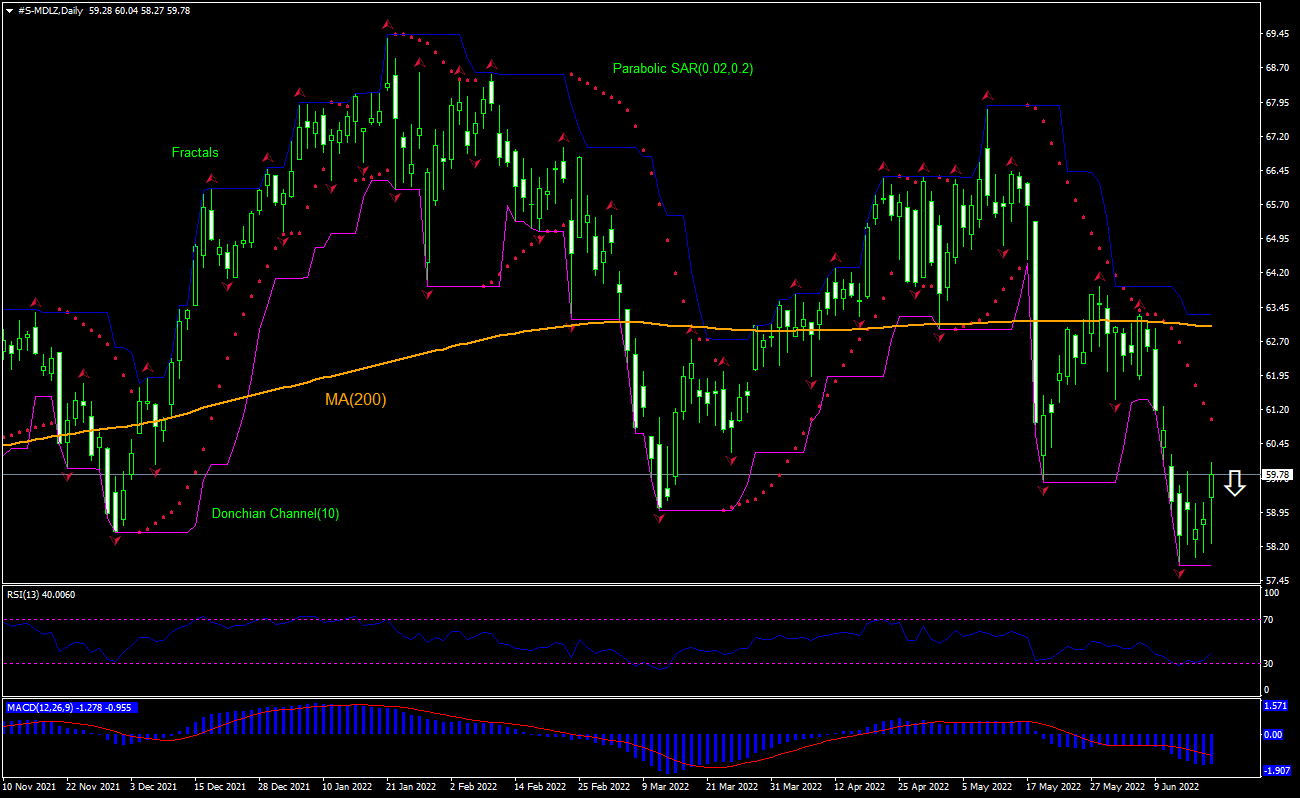 Mondelez Technical Analysis
The technical analysis of the Mondelez International stock price chart on daily timeframe shows #S-MDLZ,Daily is falling under the 200-day moving average MA(200) which is declining. We believe the bearish momentum will continue after the price breaches below the lower boundary of Donchian channel at 57.79. This level can be used as an entry point for placing a pending order to sell. The stop loss can be placed above the fractal high at 63.29. After placing the order, the stop loss is to be moved every day to the next fractal high, following Parabolic indicator signals. Thus, we are changing the expected profit/loss ratio to the breakeven point. If the price meets the stop loss level (63.29) without reaching the order (57.79), we recommend cancelling the order: the market has undergone internal changes which were not taken into account.
Fundamental Analysis of Stocks - Mondelez
Mondelez International stock gained after the news company is acquiring energy bar maker Clif Bar & Company. Will the Mondelez International stock price retreating reverse?
Mondelez International, Inc. is an American multinational company which manufactures and sells snack food and beverage products globally. Company's market capitalization is $81.4 billion. Mondelez International's stock trades at price-to-earnings (P/E) ratio of 19.78 for trailing twelve months (ttm). Over the past 12 months, it has generated revenue of $29.25 billion, Return on Assets (ttm) of 4.65% and Return on Equity (ttm) 15.20%. Mondelez International Inc said on Monday it will buy energy bar maker Clif Bar & Company for $2.9 billion to expand its global snack bar business. Clif Bar's acquisition marks the ninth deal since 2018. Mondelez said the company will also pay additional amounts to the sellers depending upon its earnings from Clif Bar. Stock price closed up 1.73% over day after the news