Ok folks, this is the system(s) i trade in my swing trading. I must give much credit to mr effi lang, who provided a large portion of this system called the 25/50 system, which can be found discussed in full on Forex Factory Forums and Babypips.
The combination however, i feel is a great way to approach swing trading and has worked wonders for me in the past. It is a little complicated and has many rules to follow so bear with me.
Set-Up Charts: (Daily Charts)
     200 SMA (Purple) - applied to close


     50 EMA (Light Blue) - applied to close


     25 EMA (Pink) - applied to close


     8 EMA (Red) - applied to open


     5 EMA (Yellow) - applied to close


     100 Period ATR


     14 Period RSI (Relative Strength Index) 

Entry Signals:
  When the 5 EMA Crosses the 8 EMA in the up direction and RSI is above 46 level we enter a buy position, When the cross is in the down direction and RSI is below 54 we enter a sell position. 


  When a daily candle closes and then opens crossing the 50 EMA we enter in the direction of the cross.  For this type of entry, if the price retraces back up to the 25 EMA, we should have exited by now. If it crosses again in the direction of the original trade we re-enter position. 

Stop Losses:
We place stop losses at exactly 1 100 period ATR value away from the entry price. EX: (100) ATR = 0.0123, then ATR value is 123, and S/L should be placed 123 pips away from the entry price.
Exit Strategies:
1- For trades that are in sync with the 200 SMA, drop down a timeframe to the 4 Hour charts. Use the cross of the 5/8 in the opposite direction as the exit for this timeframe.
2- For trades that are not in sync with the 200 SMA, TP is 70% of ATR value. This must be set when entering the trade.
3- If RSI crosses the 50 level in opposite direction exit trade with loss or profit.
Money Management:
Every 50 pip move in the direction of profit we move the S/L 25 pips in the same direction. We Risk 5% of the account every trade. EX: (.05 x equity) /ATR = amount of lots.
Extra Rules:
     Write down every trade in excel workbook 


     Follow system to the letter

The 200 SMA: This serves as a filter for our trades. If cross, whether it be by the first or second system, is underneath the 200 SMA and is a sell signal, then it is said to be with the 200 SMA Filter. So, if a trade is with the 200 SMA filter, then we hold it until a cross (opposite) on H4. If against the trade, we take profit at 70% ATR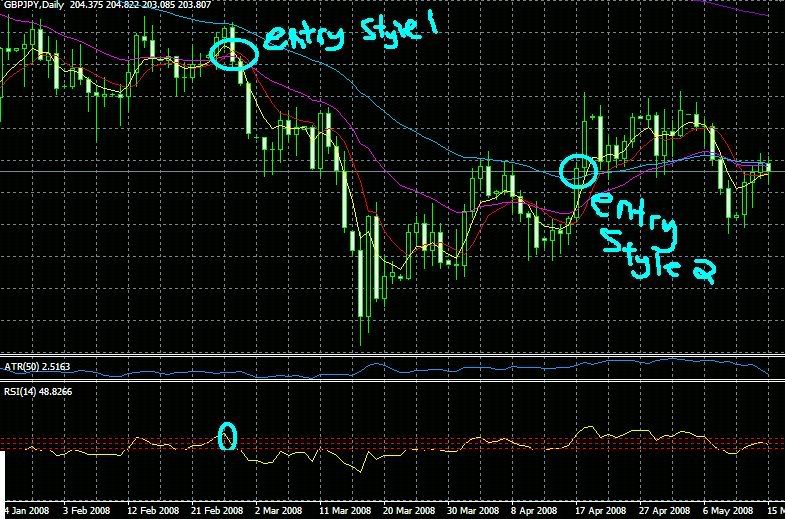 If there is genuine interest in this thread, then i will post more charts and ideas, etc. I would like to hear from you, any suggestions, comments, or if youd like an extra contact in forex.