Recommendation for Cocoa:Buy
Buy Stop : Above 2525
Stop Loss : Below 2360
| Indicator | Value | Signal |
| --- | --- | --- |
| RSI | | Buy |
| MACD | | Sell |
| MA(200) | | Neutral |
| Fractals | | Neutral |
| Parabolic SAR | | Buy |
| Bollinger Bands | | Neutral |
Chart Analysis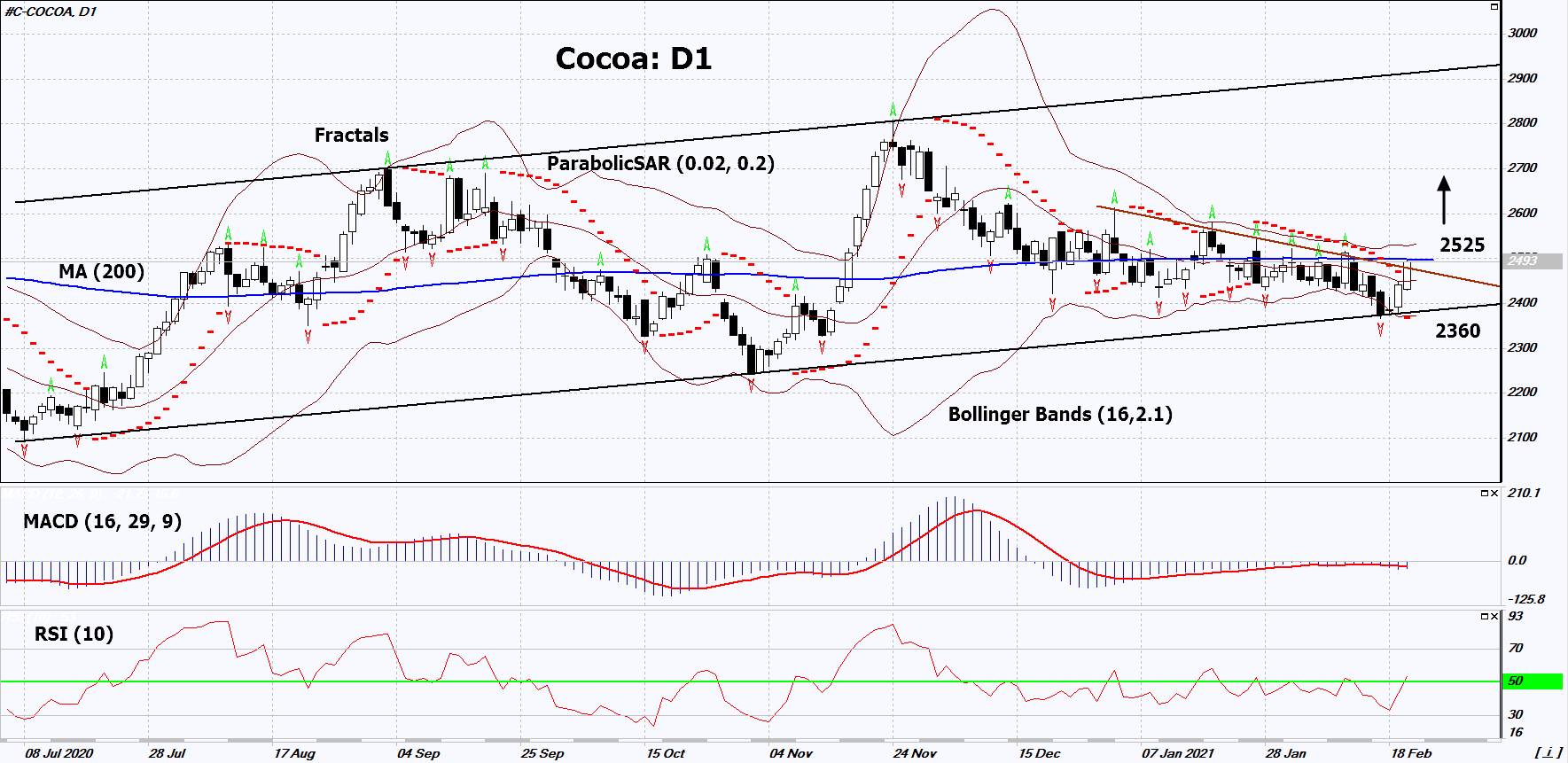 On the daily timeframe, Cocoa: D1 approached the lower support line of the long-term upward channel. It could not break it down and is trying to move towards the upper resistance line. A number of technical analysis indicators formed signals for further growth. We do not rule out a bullish movement if Cocoa: D1 rises above the 200-day MA and Bollinger Upper Line: 2525. This level can be used as an entry point. We can place a stop loss below the Parabolic signal, the lower Bollinger line and the last lower fractal: 2360. After opening a pending order, we can move the stop loss following the Bollinger and Parabolic signals to the next fractal low. Thus, we change the potential profit/loss ratio in our favor. After the transaction, the most risk-averse traders can switch to the four-hour chart and set a stop loss, moving it in the direction of the trend. If the price meets the stop loss (2360) without activating the order (2525), it is recommended to delete the order: the market sustains internal changes that have not been taken into account.
Fundamental Analysis
The European Union is going to allocate 1 billion euros to Côte d'Ivoire to develop cocoa production. Will the Cocoa quotes rise? The European Union Ambassador to Côte d'Ivoire, Jobst von Kirchmann, said that the total sum of €1 billion to develop cocoa production would be disbursed in installments over 6 years from 2021. However, the final decision has not yet been made. EU funds should help Côte d'Ivoire to produce cocoa in accordance with European forest protection requirements. Côte d'Ivoire produces 40% of the world's cocoa crop and exports 80% of its production to European countries. In addition, Singapore and the United States are major buyers of cocoa beans. Earlier, the Group of Ivorian Traders (GNI) demanded that the Ivorian government allow local companies to trade cocoa on the world market themselves and limit the share of foreign intermediaries. Theoretically, the EU's interest in the local cocoa market may indicate increased competition and demand. Worsening weather and the risk of drought in West Africa due to the Harmattan trade winds could be another possible factor behind the rise in cocoa quotes. It usually lasts until mid-March. Recall that more than 70% of the world's cocoa crop is grown in West Africa.